Field Trips for 5th and 6th Graders
Space Center field trips are open to all school districts, charter schools, and home school groups.
Registration for the 2022-2023 school year field trip are now open.  Please follow these instructions carefully and complete all steps.
Coordinate with the other teachers at your school to avoid duplications.
Watch this video on how to register your class.  Signing up for the right amount of spots is essential.
"How to" Video ~7 min   

Video

Here is the link to the registration spreadsheet in the video.  ASD schools cannot attend on a Wednesday due to bus restrictions.
Spreadsheet

STEP 1

Fill out the contact confirmation form so that we can connect your registration information to your personal contact information.  The sheet is a public document so this lets us keep your info private.  If we don't have contact information you may lose your spot.
Contact Confirmation Form 

STEP 2

Put the details on all participating teachers calendars.
PAYMENT
We will follow up with with payment information for any groups that register now that we are into the second half of the year.  Make sure you fill out the contact information so that we get a notification that a new registration has been added.
Non-ASD Schools will be sent a link to pay online.  ASD schools should use the following form: ASD PAYMENT
Schools can also send in a check or arrange other forms of payment by emailing [email protected]  If payment is not received your registration spot is likely to be offered to another group.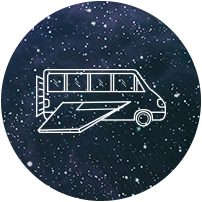 TEACHERS – Field Trip Preparations
Suggestions for Success
Check out our additional TEACHER RESOURCES and lessons. As an example

we have created an

Officer's Log

activity that has briefing resources and career exploration activities that students can complete at home.

VERIFY CORRECT DIRECTIONS TO OUR SCHOOL

. 

95 North 400 East, P.G. Many bus drivers are familiar with our location, but be assertive that YOU know the way so you don't lose valuable time.

AMBASSADOR LETTERS

 

– 

These documents can be printed and given to the Ambassador or Captain of each ship before attending. These documents provide more of the background story that will help them to perform their position.

REVIEW APPROPRIATE BEHAVIOR & EXPECTATIONS before leaving your school.

BOARDING PASSES READY & LUNCHES IN BIG BOXES, not individually held by students or in backpacks. Some teachers pass out the Alpha group's Boarding Pass a few minutes before the bus unloads.

UNPLANNED ABSENT STUDENTS – You can rearrange positions, and as a general rule the positions at the bottom of the Magellan list are easiest to do without. Keep the smaller ships filled.

HAVE STUDENTS USE RESTROOMS and wash their hands before lining up to board the bus. We will still take a break when you arrive, but it will go faster if most have already gone.
Teacher Resources
Dear Teachers,
We've prepared several engaging labs, centered in the State CORE, which are connected to the ULTIMA MYSTERY #1 lesson that we have been doing this year at the Space Center. If your class has not come on a field trip this year, we have included MYSTERY #1. For your convenience, the resources are available in the link above. Simply download the lesson, make copies for your class, and have fun flying into space!
Frequently Asked Questions
All of the simulators and planetarium (4 spots) are now fully wheelchair accessible.  A staff member can assist you in getting access to the elevator.
The Magellan & Cassini are best suited to help in those situation as they generally have extra staff.  Look for the positions that have a partner so that they can receive support from another of your students.
Reservations are initially made without payment.  Payments for field trips will be processed in September for those scheduled in Aug-Dec and then in December for those attending Jan-June.  We will confirm your reservation and send payment options at a later date.
Each group (Alpha/Bravo) needs to have a teacher in charge and with the group at all times.  The total number of adults can match the number of simulators you reserved.  4 Ships equals 4 adults.  Plan ahead as parents usually want to see their child and so it is best to put the children in different ships to avoid cramped control rooms.  Please also let attending adults know that they are there to help maintain behavior expectations and may be asked to help with activities.  No small children should be brought.
We appreciate your help in promoting our program. The best time to hand them out is as they get off the bus to go home on the day of your field trip or the very next day.  An email home to parents is also extremely beneficial to our program.  Thank you!